Research at the National Archives II in College Park, MD provides an interesting insight as to the efforts of the U.S. Army at the end of WWII in the clean-up efforts on former training ranges. In a series of letters generated in April of 1945, the US Army Chief of Engineers established three specialized Bomb and Shell Disposal Squads to be trained in the detection, location and disposal of military munitions on various training installations that were used during the War. Initial training would be conducted at the Engineer School at Fort Belvoir, VA with follow-on training at the Ordnance School at Aberdeen Proving Grounds, MD.
Three squads were formed, consisting of one officer and six enlisted. Records indicate that the detachments were organized as the 9800th Technical Support Units Detachments 6th, 7th, and the 14th. Historical records of the 14th recovered from the National Archives provide an accurate historical listing of the actions took place from 1946 to 1948. Documents include individual reports of clearance operations conducted, inventories of munitions recovered, and destroyed maps and photographs of work conducted.
Among the inventory lists of recovered/destroyed munitions include the following for Camp Claiborne, Louisiana in 1946:
57, 105, and 155mm projectiles
60 and 81mm mortars
100 pound practice bombs
Smoke pots & Grenades
TNT and Nitrostarch Blocks
German Mine Fuzes
Cans and sticks of Black Power
Dutch Mushroom AT Mines
A detailed written record of the methodology that was utilized during the range operations indicates that the methods and procedures that were used in 1946 involved the use of German POW's as sweepers. Today the USACE FUDS Program relies on the use of civilian UXO contractors.
The maps and photographs are included in with the Camp Claiborne report, along with the rest of the documents, providing an in-depth insight into the U.S. Governments efforts to carry out the clean-up.
Clearance work was conducted from 1947 to 1948. Approximately 34,085.42 acres were surfaced cleared. Records indicate that between 1946 and 1948, the 9800th Technical Support Unit Detachment 14th conducted twenty range clearance operations of various dimensions at the following locations:
Bombing Ranges 2 and 3 Walker, Kansas
Bombing Range 1 Pratt, Kansas
Drakes Bay Skip and Dive Bombing Range Marin County, California
Camp Claiborne, Louisiana
Bombing Range Bruning AAF Bruning, Nebraska
Camp Wolters, Texas
Camp Adair, Oregon
Bombing Ranges Dalhart AAF, Dalhart, Texas
Bombing Range #1 Pueblo, Colorado
Bombing Range #2 Pueblo, Colorado
Camp Hale, Colorado
Combat Target Range Port Angeles, Washington
Ephrata Low Altitude Bombing Range Ephrata, Washington
Yakima Anti-Aircraft Gunnery Range Yakima, Washington
Spillane Property Vidal, California
Cadiz Lake Bombing Range, San Berardino, California
Bombing Ranges N-1, N-2, N-3, 6, 7, 8, 9, 10, 11, 12, 13, 14, 15, 16, 17, 19, 20, Y, 1-Z and 2-Z Victorville Bombing Range Complex, San Bernardino Country, California
Camp Lockett Campo, California
Williams Field Bombing Range Pinal County, Arizona
Ft. Huachuca, Arizona
Records indicate that the 14th also conducted an UXO Survey of the Task Force Furnace Training area outside of Yuma, Arizona but, there is no documentation that any range clearance operations were conducted. The last recorded clearance was conducted at Ft. Huachuca, Arizona 26 May 1949.
A series of rare color photographs have been found in the records of some of the search and disposal operations that occurred - sampling of these images include: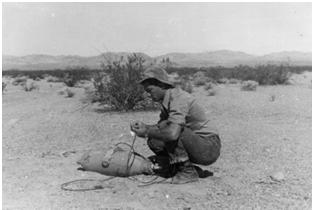 UXO operations being conducted in the desert of Southern California by U.S. Army Engineer Civilian Contractors in 1947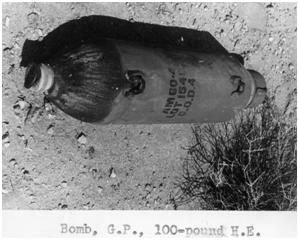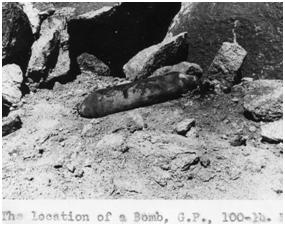 The photographs above were taken at the Victorville Demolition Target "Y" Southwest of the town of Victorville, California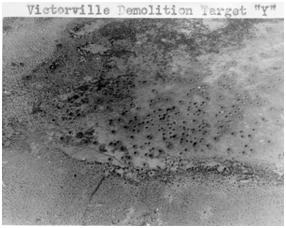 Clearance work was conducted from 1947 to 1948. A total of approximately 34,085.42 acres was surfaced cleared.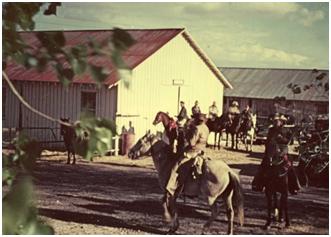 Mounted Sweep Team at Ft. Huachuca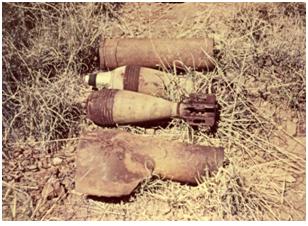 2 ea. M43 81mm HE Mortars Ft. Huachuca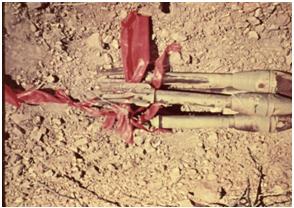 3 ea. M7A2 2.36-inch HEAT Rockets
As you can see, the DoD and the U.S. Army have been active a lot longer than most people realize removing dangerous and hazardous munitions from around our communities. If you would like to take a more in depth look at these operations, contact UXOInfo.com for more information on the Record Groups searched.