A UXO Technician deployed in an undisclosed international location took pictures of the following munition items while deployed on assignment. They appear to be Chinese Type 84 scatterable mines but second opinions are being sought as well as any additional technical specifications on the munitions.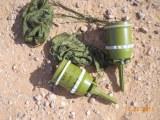 Type 84 Chinese scatterable anti-tank mines are deployed by 122 mm rocket launchers. The mine consists of a cylindrical body with three prong legs that form a spike. Dropped with the assistance of a parachute, the formed spike is designed to stick into the ground upon impact. The Type 84 mines are equipped with multiple anti-handling devices and can also be equipped with a magnetic detecting fuze, which can explode the mine if a magnetic object passes through its immediate environment. Many of the Type 84 mines are additionally equipped with a time delay fuze that will cause mines to self destruct. The Type 84 mine can be deployed from a few miles away by 122mm rocket launchers.
If you have any additional information to confirm the identification of these mines and/or additional technical information of the munitions, please post a comment below or send the information (unclassified only) to jenna@uxoinfo.com for forwarding to the anonymous UXO Technician needing assistance. Thank You.